2017/18 class schedule
​and class descriptions
Providence Friends Meetinghouse, 99 Morris Ave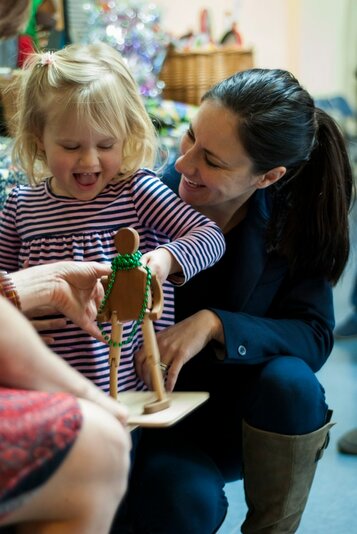 ALL-IN-ONE (6 mo-4 yrs) Tuesdays 10:15-11:00

INFANT/TODDLER
Wednesdays 9:15-10:00

TWOS
​Tuesdays 9:15-10:00 Wednesdays 11:15-12:00
​
THREES
Tuesdays 12:45-1:30 Wednesdays 10:15-11:00

FOURS Tuesdays 1:45-2:45 Wednesdays 2:10-3:10
​
FIVES Tuesdays 3:35-4:35 Wednesdays 3:45-4:45

SIXES & SEVENS Wednesdays 4:55-5:55
​
SEVENS & EIGHTS MUSICAL THEATER CLASS* Tuesdays 4:45-5:45
*performance in the spring!
---
Enrollment is ongoing, partial session available where space allows.
Tuition for the full 24-week school year session is $430. Musical Theatre class tuition is $550
There is a 10% sibling discount off both tuitions. A $30 non-refundable deposit is due at the time of registration.
Classes begin September 26th and run through April.
Please call or email to set up a free trial class, check class availability and register:
401-272-2006
​lindsay@musicforchildrenri.com
---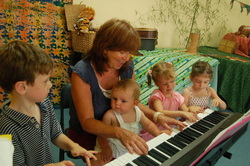 All-in-One
This class brings together the best of our Toddlers', Twos' and Threes' curriculums. Each lesson is thematic, playful and thoughtfully structured, with musical experiences tailored to the diverse needs of the class, from baby to preschooler. The mood is fun and high-energy, fostering a true sense of musical community.
---
Infants/Toddlers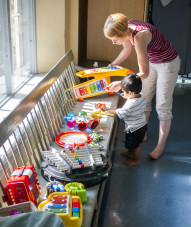 Our Infant/Toddler program builds upon your child's innate musical sensibilities, providing joyful, multi-sensory experiences that promote a physical and emotional connection with the music. Our weekly song ritual brings consistency, while the ever-changing class themes introduce new songs, instruments, recordings and creative ways to play with your baby. Take home more than a melody-- we impart ways to make music a part of your everyday.
---
Twos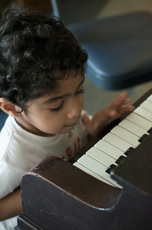 Keep the music growing with our dynamic Twos' program. You and your child will experience our rich, creative, and interactive musical curriculum with themes that inspire and enliven your child's musical development. This is the year when the music in your child truly comes out to play.
"This class is not just my child's favorite part of the week, it's mine too! Music for Children is a joy for children and parents alike." -Providence parent in the Twos class
---
Threes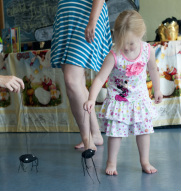 Your children are masterful, musical inventors with so much to share. We have crafted a Threes' program that connects beat, rhythms, melody, form, dynamics, tempo, and all things musical with their world of fantasy and naturalistic play. We invite you to share the music with them into January, then we let the music soar as they come independently.

---
Fours (Independent classes begin)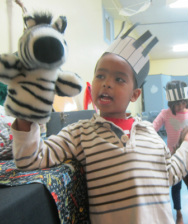 Your children will internalize the music through our "once upon a song story" style of teaching. We'll be "horsin' around," "going to the circus," and visiting the "teddy bear's picnic," to name just a few adventures. In January, the music climbs to the next level as we begin group piano lessons. Parents are invited to join us for the first class to learn more.
---
Fives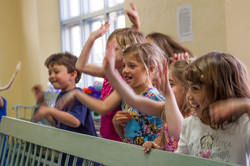 We believe that total musicianship must be nurtured from within and in a way that inspires. That's why every class incorporates imaginary play, creative drama, dance and art.
There are so many ways to experience the music!
In January, our Fives embark on a musical safari with our piano book, "Harry the Hippo and Friends."
---
Sixes/Sevens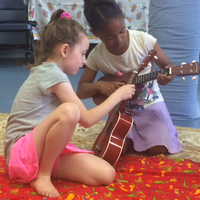 "When do I sign my child up for private lessons?"
This class is the best way to prepare your child for formal musical training, while still giving him/her the playful, developmentally-appropriate space to learn and create. At this level your child will have lessons in piano, voice, recorder and ukulele, while building confidence through creative drama and dance.
---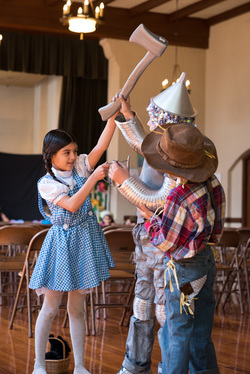 Sevens/Eights
In our musical theatre class...
We SING every week with group vocal lessons, solo opportunities, round singing
and 2-part harmonies.
We ACT out stories with costumes, props and instruments. We BUILD our ensemble (and group skills) through theater games.
We DANCE creatively and learn choreography.
We STAGE our own in-class versions of the Nutcracker & the Dancing Drum.
We PLAY recorder.
We CREATE set pieces, contribute to the script and design our own costumes.
We are ALL the STARS of the show.
Most importantly, we build self-esteem through musical expression.
---