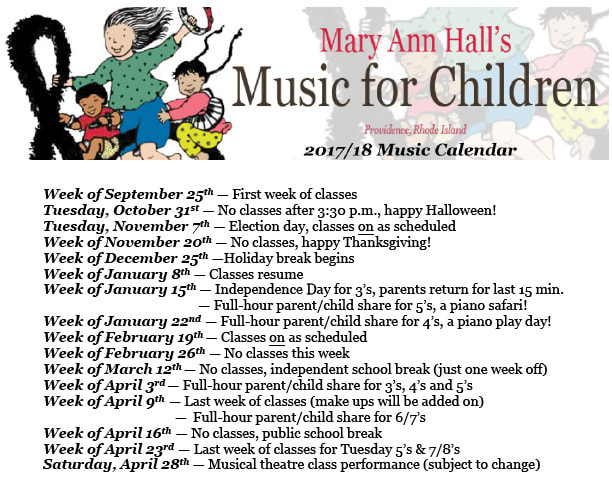 Please note the following policies
Payments:
Tuition for the 24-week session is $430 ($550 for the 7/8's musical theatre class).
A non-refundable deposit of $30 (first payment) is due before the start of classes on September 26th.
T
wo additional payments follow, due October 15, 2017 and February 15, 2018. Payments
(cash or check, payable to Music for Children)
can be brought to class or mailed to:
Music for
Children
PO Box 2444
Providence, RI 02906
Discounts:
There is a 10% sibling discount for two children enrolled and a 20% discount for three children enrolled.
Moses Brown faculty/staff and members of the Providence Friends Meeting receive a 10% tuition discount.
​
Make up classes:
Make ups are welcome throughout the 24-week school-year session but may not be scheduled on parent/share days (see below). If time allows, please email
lindsay@musicforchildrenri.com
before attending a make up class.
Make ups may stretch into the summer session but may not stretch into the following school year. Please schedule accordingly, as only we can only allow for
two make ups during the summer.
Partial session:
Enrollment is ongoing, although space is limited. Tuition can be prorated.
Refunds:
If you need to withdraw from a class, you will be refunded for the remaining amount of tuition paid. You may also apply the balance to another session.
Missed classes cannot be refunded, instead, make up classes are encouraged.
Kindly let us know ASAP if you plan to withdraw so that your space may be given to a student on the wait list.
Parent/child share classes:
This is a special time for you to connect with your child one-on-one so it's best to leave siblings at home. If you cannot attend, PLEASE arrange for another adult to be your child's partner.
Cancellations:
We follow Moses Brown for cancellations and delays (99% of the time). Please call or check the Music for Children website if you are in doubt. We do not send out cancellation emails unless it is a personal matter unrelated to weather. All cancellations will be made up in the spring.